Below is a powerpoint presentation designed to provide teachers and school staff with a detailed understanding of DDSN and how school staff can be sure all students are connected to DDSN for a smooth transition from school to adult life.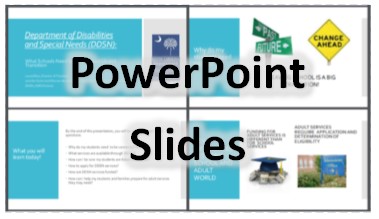 1.  What services does DDSN provide, who do they serve, and how do individuals apply?
 DDSN is a statewide agency that provides services to support individuals with severe and lifelong disabilities in their homes and communities.
          A. Want more information on who DDSN serves and services provided?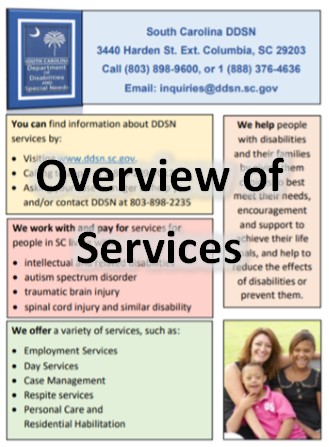 B. Want more information on how to apply for services? 
                     You can visit our Webpage on How To Apply for more information or use our flyer below.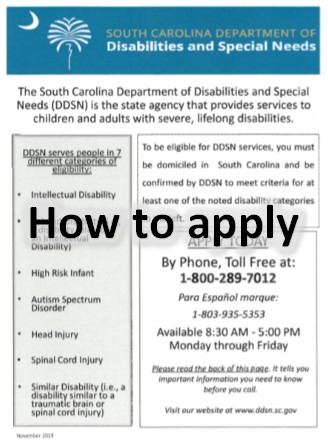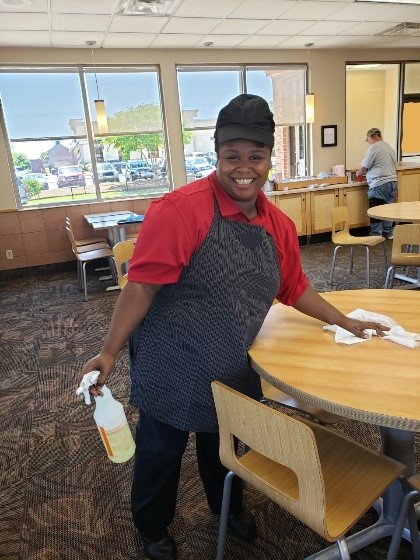 2.  How can I assist my students and families in connecting with DDSN services?  
• Share the Overview of Services flyer and explain to parents/guardians that DDSN provides long term services that a student may benefit from after high school.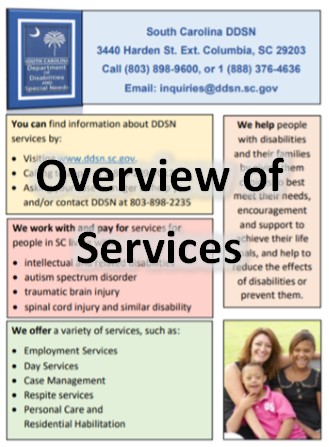 • Educate families about the differences between school and adult services:
        • Inform families that adult services are not automatic, and they must apply and be determined eligible.
        • Inform families that they need to apply for services before they need them, leading to a seamless transition.
        • Encourage Families to research options before graduation and the requirements for these options.
        • Review our information sheets on the Waiver services that DDSN provides and share with families.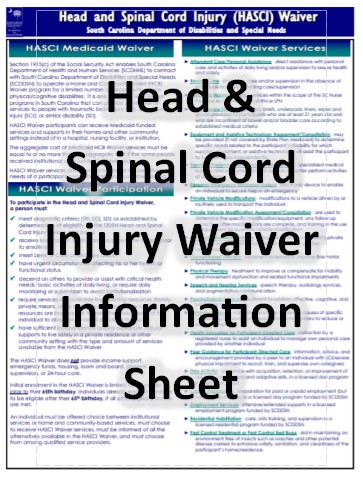 • Work with your DDSN Transition Coordinator to ensure all of your students have an open case with DDSN.
• Encourage families to apply before the student is age 14. To best help the family:   
     • Share information about how to apply.                                                   
     • Educate families and students on Employment 1st: as employment is the first and preferred setting for
       individuals with disabilities regardless of their disability.
     • Provide information about the child's disability category (may wish to highlight this on the flyer)
     • Provide the families with a recent IEP and Psychological Evaluation to help with eligibility determination.
     • Encourage families to respond to DDSN requests to complete the process.
• Understand the role of the DDSN case manager and how to involve them in the transition process
      • Case managers are local contacts for families. Know who each students case manager is and the name of
         the agency for whom they work.
      • Involve the student's case managers in transition planning. Use this tool to communicate with case managers.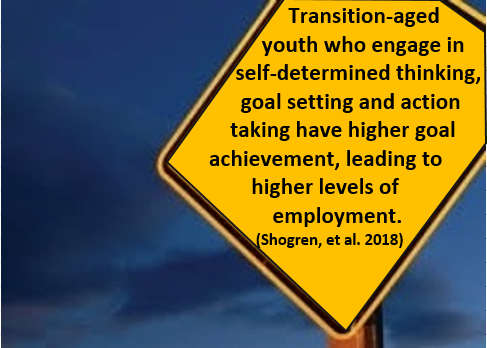 3.  How can I tell if my student has an active case with DDSN? 
If you or the family/guardian is unsure if a student has an active case with DDSN, you can: 
       1) Share this flyer with families or the student, and they can contact DDSN at the numbers listed to inquire about
           the student's connection.
       2) Ask the student and family/guardian to sign the Release of Information form so that DDSN staff, including the DDSN
           Transition Coordinator, can share this information with you.
A completed Release of Information form (with student/guardian signature), information about DDSN services to be shared with the school (and other agencies indicated as needed) which will promote transition outcomes. The Release of Information permits DDSN Transition Coordinators to share information such as the student's eligibility, case manager, and DDSN program enrollments. Teachers can obtain forms for their classroom, and the Transition Coordinator can assist you in being sure your entire class is connected.
The Release of Information can be found here:
Once the family/guardian or young adult completes the form including a signature by their student or their parent/guardian, the forms can be submitted to DDSN by any of the following methods. 
1) Forms can be scanned and emailed to Transition Coordinator (RMumford@DDSN.sc.gov)
2) Forms can be mailed to the following address:
           South Carolina DDSN
           Attn: Transition Coordinator/ ID/RD Division
           3440 Harden Street Ext.  
           Columbia, SC 29203
3) Forms can be faxed to the attention of the Transition Coordinator at (803) 898-2242
4. What other resources are available for my students? 
For more resources, visit the Youth Transition Resources page.
5. How can students pursuing CTE Programs find professional work with this population? 
More information on the Direct Support Professional CTE Program can go to the South Carolina Direct Support Professional Training Program (SC-DSP) Program page.
6. I have parents and students who are strong advocates. How can I empower them even more? 
Link them with our Information for Families and Young Adults page.
7. I get that Employment First is essential. How can I make sure my school, Vocational Rehabilitation, pre-ETS provider, and DDSN work together to focus on employment for all my students? 
They may benefit from watching our DDSN Webinar at the top of this page and accessing our Information for Agency Partners page.